Marvin's download folder contains the following:
| | |
| --- | --- |
| file/folder | purpose |
| application_files folder | Marvin's application file |
| font_files folder | Font files for Lato |
| sample_files folder | Sample files for testing each tool |
| Getting Started with Marvin.pdf file | Important instructions for installing Marvin including required passwords |
file name
You cannot rename the Marvin application file (ds__Marvin.fmp12).
installing the Lato font
To create the most consistent look between different operating systems, Marvin uses the Lato font, which will most likely need to be installed on your computer. If you need help, reference the installing fonts article.
multi-user (hosting) consideration
Before getting started, please note that the default MarvinTrial user account can only be used to access a local (non-shared) copy of Marvin. If you plan to host the database for multiple people to access, you will need a non-trial license key to create a new user account before uploading it to FileMaker Server.
FileMaker errors
FileMaker cannot share a file because FileMaker network sharing is turned off.
Don't be concerned if you get this error when opening Marvin for the first time. Click OK and proceed. You shouldn't be prompted again.

Your access privileges do not allow you to perform this action.
This means you're trying to open a hosted version of Marvin using the trial account. If you created other users, log in using those accounts instead. If you haven't created any users, you'll have to close Marvin on the server and open it locally first.



The provided account name and password cannot be used to access this file.
This means that your account name and/or password do not match an existing user account. Click OK and try again. This can happen when copying/pasting your credentials, so carefully re-type them instead.

signing in
To prevent unauthorized access to your files, Marvin is encrypted using AES-256 encryption, which requires a special password to open. The Encryption At Rest (EAR) password is different from a FileMaker account name and password, so you'll need all three, which can be found in the Getting Started with Marvin.pdf file.
When you first open ds__Marvin.fmp12, you'll be prompted for the Encryption Password. Type it in the dialog and click OK.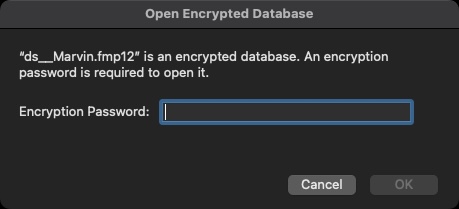 Next, you'll be prompted to sign in. Type those credentials in to the dialog and click Sign in.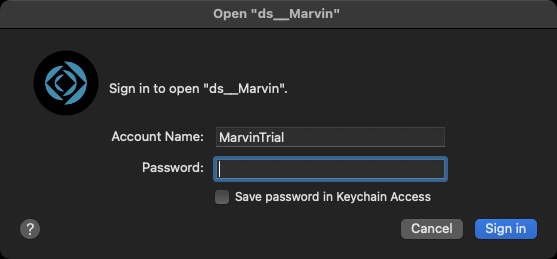 font test
When Marvin opens, it will first check to see if the Lato font is detected on your computer. If it can't be found, you'll be prompted with instructions to install it. Otherwise, startup will continue.
EULA
Next, you'll be prompted to agree to Marvin's end user license agreement (EULA). Read through the EULA and click agree.
license
Finally, you'll land on the manage your software license page. Type the email address associated with your download and the license key that were emailed to you, select the type of license (i.e., trial or full), and then click activate. Upon successful activation, you'll be redirected to Marvin's home page.
For additional troubleshooting or questions, check out the manage software license article.